Buckeye Wellness is proud to offer free educational series and fitness classes held throughout the university.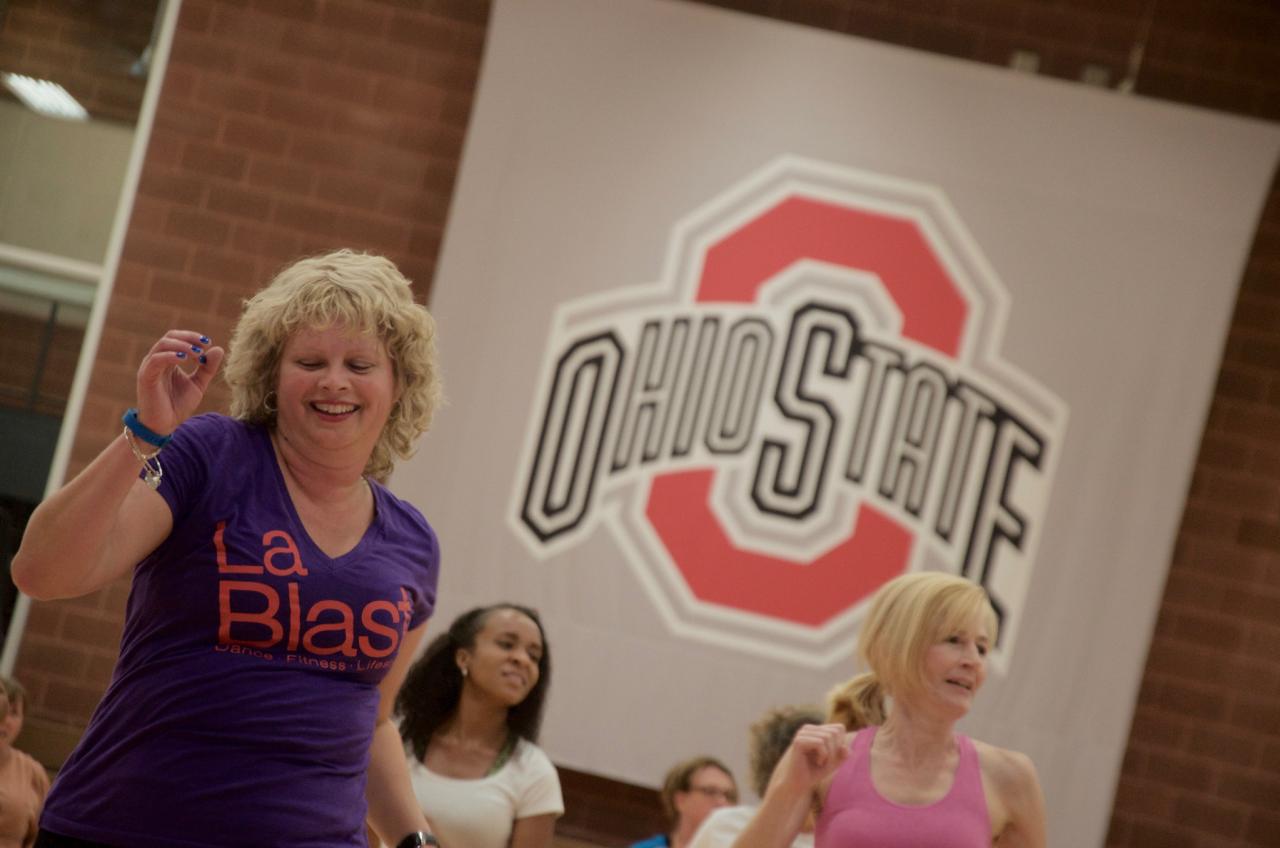 Our programs and classes are open to all Ohio State faculty, staff, students, alumni, and family members of faculty and staff. We have certified instructors in Zumba, STRONG by Zumba, yoga, and LaBlast fitness classes who hold classes throughout the week. Registration is required for all programs and classes.
Mondays
Beginner's Yoga, 4:30-5:30 p.m.
STRONG Nation, 5:15-6:15 p.m.
Tuesdays
Zumba, 4:45-5:45 p.m.
Wednesdays
Zumba Toning, 4:45-5:30 p.m.
Thursdays
STRONG Nation, 5:15-6:15 a.m.
Zumba, 5:15-6:15 p.m.
Fridays
HIIT/Total Strength (alternating weeks), 6:30-7 a.m.
Zumba Toning, 12:15-12:45 p.m.
2022 Lunch and Learn Dates
September 23, noon to 1 p.m.
October 28, noon to 1 p.m.
November 18, noon to 1 p.m.
December 16, noon to 1 p.m.
News and Events Newsletter
The Buckeye Wellness News and Events newsletter keeps you up-to-date with events going on here in Buckeye Nation.
Health and Wellness Calendar
To view the most up-to-date information on upcoming events and how to register, please visit the YP4H calendar and search for the class in the "search box" at the top.
Educational Series
The Buckeye Wellness Lunch and Learn series brings experts from across Ohio State University to present evidence-based information on a prevention-focused wellness topic. Faculty, staff and students are invited to join us every month for an engaging program on a relevant or emerging wellness topic.
Challenging times call for evidence-based tactics to help us be resilient. From the midst of the COVID-19 pandemic, this six-part program provides you with resources and strategies you can easily use to overcome any character builders that will help you dream for a healthy future.
Learn more
Fitness Classes
Join Certified Yoga Instructor Terri Ward as she will move through a series of poses that will gently engage and open all of the major muscle groups. Guided breathing techniques will link breath to movement to enhance a mind/body connection to improve overall physical and mental health and well-being.
Mondays
Online
4:30 p.m. - 5:30 p.m.
HIIT: High Intensity Interval Training is a technique in which you give all-out 100% effort in short, intense bursts of exercise followed by short active recovery periods. HIIT gets and keeps your heart rate up and burns more fat in less time, in this case just 30 minutes.
Fridays 
Online
6:30-7 a.m.
LaBlast® is a dance fitness program created by three-time world dance champion and Emmy-nominated choreographer Louis van Amstel from Dancing with the Stars. LaBlast® is a perfect balance between dance and fitness. This workout in disguise helps you learn dances like the Disco, Cha Cha, Jive, Salsa, Paso Doble, Samba, and many more. Any music, any genre — no partner needed!  No dance experience needed!
Class is currently suspended due to COVID-19.
Build a stronger body, while releasing tension and flow your way into a more blissful state. In this class, you will learn to honor and work with your individuality, experiencing for yourself the union of your mind and body. This class is suitable for beginners with little or no yoga experience however the most experienced yoga practitioner will also be challenged as sometimes less is more. You are encouraged to bring your own mat and props, there will be some available to borrow, however that supply is limited.
Please use the Outpatient Pharmacy entrance when entering for the class as these doors will be available.
Class is currently suspended due to COVID-19.
Using your own body weight, you will gain muscular endurance, tone, and definition, and you will experience an increased after burn. This class is designed for participants looking to increase their intensity levels of training, maximize workout benefits and see faster real results from their efforts.
Mondays
Online
5:15 p.m. - 6:15 p.m.
Thursdays
Online
6:15 a.m. - 7:15 a.m.
In 45 minutes, participants make use of dumbbells and body weight to challenge and strengthen all the major muscles of the body. Compound exercises are used to activate as many muscle groups as possible and raise the heart rate to provide cardiovascular benefit, burn calories and improve balance and coordination. Recommended equipment: a set of medium (5 to 8 lb) and heavy (10 to 12 lb) dumbbells.
Wednesdays (Starting 10/19)
Online
5::30-6:15 p.m.
This all levels yoga class will flow through a series of alignment-based poses designed to strengthen the body and energize the mind. By focusing on breath, participants will gain awareness of body and mind connection and leave invigorated for the work week ahead. Please bring your own mat and water as these will not be provided.
Class is currently suspended due to COVID-19.
Grab a friend and join Buckeye Wellness for a relaxing walk around the university. These walks are a great way to get some fresh air, extra steps or just get to know some new people! Adding a little sunlight and physical activity in the middle of your work day is a wonderful way to keep you motivated, alert and healthy. Come prepared for a 30 minute walk around campus.
Class is currently suspended due to COVID-19.
Founded in 2001, Zumba® fuses fitness, entertainment and culture into an exhilarating dance-fitness sensation! This class will feel like a "fitness-party" that blends upbeat world rhythms with easy-to-follow choreography, for a total-body workout that combines all elements of fitness – cardio, balance, flexibility, and muscle conditioning. Dance experience is not required; our instructors will work with participants to ensure the best results.
Tuesdays
4:30 p.m. - 5:30 p.m.
4:45 p.m. - 5:45 p.m.
Thursdays
Stephanie Spielman Breast Cancer Center during the Month of August
5:15 p.m. - 6:15 p.m.
This fitness class is for people who want to party, but also put extra emphasis on toning and sculpting to define those muscles! The challenge of adding resistance by using Zumba® Toning Sticks (or light weights), helps you focus on specific muscle groups, so you (and your muscles) stay engaged
Wednesdays
Online
4:45-5:30 p.m.
Connect with Buckeye Wellness