Stress, anxiety and depression have escalated since COVID-19 came into our lives. A few of the best ways to lessen the adverse impact of the pandemic on our mental health and well-being are well within our reach: kindness to ourselves and others, along with deep abdominal breathing. Being kind to ourselves and kind to others is scientifically shown to boost our mood and reduce stress. Research also shows that taking deep abdominal breaths regularly while staying mindful in the present moment helps to reduce stress and anxiety.
The Mask On/Mood Up movement is a partnership among The Ohio State University Office of the Chief Wellness Officer and Office of Student Life to promote kindness as part of a set of three evidence-based tactics with mask-wearing so that we can thrive in our day-to-day lives, help flatten the curve of the virus and allow vaccine distribution to happen safely and effectively.
Below you will find details on the tactics, more resources and a space for you to share how using these strategies has helped you. The first 300 people to fill out our survey will receive a free "Be Kind" mask courtesy of the Office of Student Life and Kind Columbus.
Please read our news release announcing the Mask On/Mood Up campaign.
Use these three evidence-based strategies every time you put on your mask to reduce your stress and boost your mood
Deep, abdominal breathing
Inhale for a count of 5, hold for a count of 7, exhale for a count of 8

Relieves stress and anxiety, slows heart rate, decreases blood pressure
Be kind to yourself through self-affirmation
Say a self-affirmation 10 times out loud (I've got this; I am strong; I'm too blessed to be stressed)

Increases brain activity related to self-worth, self-competence and positive thinking
Be kind to others by taking a dose of Vitamin G (Gratitude)
Name one person for whom you are grateful- tell the person with specifics (e.g., I am grateful for you because you let me vent when I am stressed).

Strongly associated with greater happiness, lowers inflammation and heart rate, improves sleep, builds better relationships
Resources
Being able to recognize common stress symptoms can give you a jump on managing them
Article from Positive Psychology on daily self-affirmations for women, men and teens
Article from Everyday Health on 9 Ways to Promote Gratitude in Your Life
The concept of kindness can seem simple, but it leads to powerful experiences and profound human connections
We want to hear from you!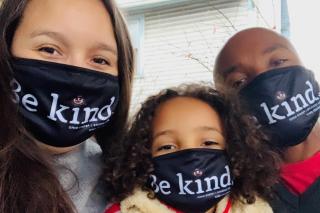 Please fill out our survey to share how using the strategies through Mask On/Mood Up have affected you. The first 300 people to complete this survey will receive a free "Be Kind" mask. If you're one of those first 300, you will receive a confirmation message that your mask is ready for pickup at the Ohio Union*.
*Please note that the masks can only be picked up at the Ohio Union; we are not able to mail them out to recipients.